Machine Translation – let AI translate whole branching structures for you
AI-based machine translation is now right at your fingertips in the AX NLG Cloud Cockpit!
Just by copying selected content out of a statement or phrase in one language and pasting it into the same or another statement or phrase in another language you can now get whatever you paste automatically translated, branching structure and containers included!
Works via both the context menu and copy/paste keyboard shortcuts!
Changed your mind? You can switch between, asking, always translating or never translating on paste in "Advanced Settings".
Want to do something different just once? Use "Paste and translate" and "Paste without translating" in the context menu, regardless of your default.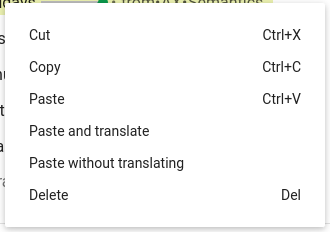 Our machine translation is powered by deepl and supports the same languagesopen in new window.
We don't try to guess the source language, machine translation only works with content copied directly from statements and phrases and not other external sources.
We're using your selected preview output to translate, so make sure you have a fitting test object selected.
This feature is available right now for all your projects with container parts enabled.
Hit CTRL+C, switch your preview language and paste to try it out now!