Container Suggestions – Save Time With AI Supported Annotation
We're excited to announce our newest innovation for the AX platform: Container Suggestions!
Previously you had to configure containers by hand, adding variables and grammar yourself. Container suggestions change that. You now get suggestions for new containers, complete with variable detection and grammatical configuration, on plain text in the write section, even while you type.
Container suggestions are generated live, based on the text you enter, the preview test object you have selected, and your active preview language. You only get suggestions for containers that will contain one or more variables, or are grammatically dependent on such containers. Container suggestions support complex containers containing variables in noun lemmas and adjectives.
When our algorithm can't pick a single variable to use, because the project contains multiple variables with the exact same output, you'll be able to choose the used variable before creating the container.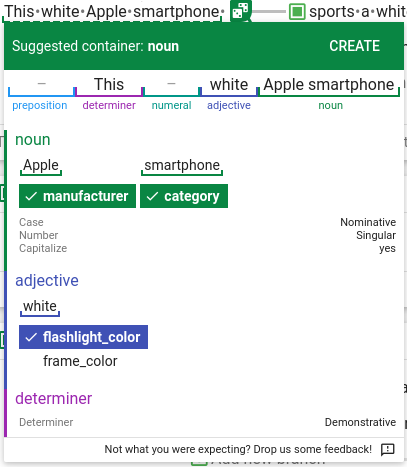 Status Icon
We added a status icon in the statement panel toolbar. This status icon shows you if suggestions are currently computed or if we have encountered any problems while generating suggestions for you. Should you not receive any suggestions, have a look at this status icon. If you ever don't want to get container suggestions you can temporarily disable suggestions by clicking on this status icon.
In open beta now!
You can try out Container suggestions right now by enabling Container Suggestions in your Advanced Settings. This feature only works in projects with Container Parts enabled.
Container suggestions are currently available for the following languages: Catalan (ca-ES), Chinese (zh-), Croatian (hr-), Czech (cs-), Danish (da-DK), Dutch (nl-), English (en-), Finnish (fi-FI), French (fr-), German (de-), Greek (el-GR), Italian (it-IT), Japanese (ja-JP), Korean (ko-KO), Latin (la-VA), Lithuanian (lt-LT), Macedonian (mk-MK), Norwegian Bokmål (nb-NO), Polish (pl-PL), Portuguese (pt-), Romanian (ro-RO), Russian (ru-RU), Serbian (sr-RS), Slovak (sk-), Slovenian (sl-SI), Spanish (es-), Swedish (sv-SE), Ukrainian (uk-UA).
We add new languages regularly, so feel free to contact us via chat with us if you want to try out the Container Suggestions in a particular language.
Send us your feedback!
We are continuously improving container suggestions, and getting feedback from you would help us a lot to provide better suggestions. To make it as easy as possible for you to tell us that you expected a different suggestion, we added a feedback form directly inside the suggestion details.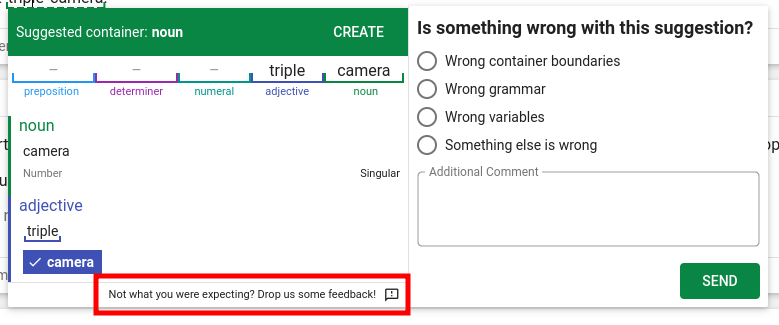 If you are expecting a suggestion in a certain place but nothing is showing up, you can let us know by using the new "Report missing suggestion" button in the inline tool, next to where you usually would create a container:
We're looking forward to your feedback!